!===================================================>
last updt 12-07-01 -- Genealogy Page
MARVIN E OWEN
CPA and Attorney at Law







---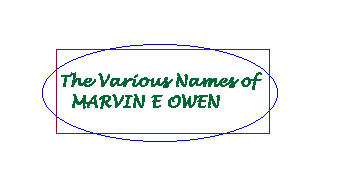 Those who do not learn from the Pages of Time are doomed to repeat the errors of the past.

---
One of my hobbies is "down home" Genealogy. This is a collection of related data about my ancestors but it is not presented in the cold, listing format that many of the current computer programs generate. For those of you who expect a finely tuned genealogical page, you may be disappointed. However, I believe the information is valid.
I have attempted to keep the data logical and in order and to let the historical facts tell a story about the people involved. However, there are some items of data included that may not have been fully tied in to my ancestors but I have included the data because it appears to be the same surnamed people, in the same county and they may have had some interaction with some verified ancestors. These included surnames may be verified later and become an official part of the story. In the interim, they are included to add additional data for my benefit and the benefit of other researchers.
---
My four grandparents were named: OWEN, COLVIN, AVERY and ODOM.


Check out the family pages for any corresponding relatives. Some other names that I am interested in pursuing but have not fully developed data on at this time are COPELAND-ODOM-POPE Connections in Miss, and BUCKNER in Claiborne Parish, La in 1850-1870.

My wife's family are LEA and FUNK on her father's side and BLADES and CUTRER on her mother's side, all in Louisiana. A distant ancestor Col James Roddy of Tenn.
---
---
One of my favorite researchers, who happens to be researching the same lines that I research, is my daughter who can be reached at kimchance@attbi.com
---
---
You can reach me by e-mail at: marvin@meocpa.com..Baton Rouge, La

   Back to Marvin's homepage
copyright © 1995-2002 marvin e owen
---